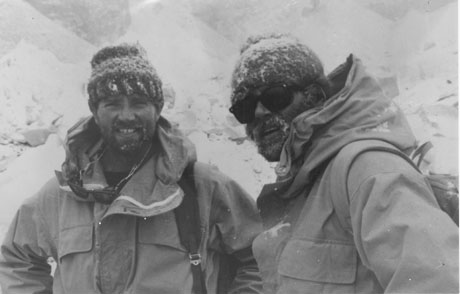 Maj Michael 'Bronco' Lane and John 'Brummie' Stokes during the 1976 Everest Expedition
History of Army Mountaineering Association
The Army Mountaineering Association was formed in 1957 however the British Army can trace its links to mountaineering much further back than then. The Army were closely involved in many climbing initiatives from the early 1900's, which included a strong involvement in the large pre-World War Two reconnaissance expeditions to Everest. During the Second World War, the British Army fielded a Division of Mountain Trained troops, and by 1957 the Army had mounted a number of successful expeditions around the world, including Lieutenant James Waller's and Lieutenant John Hunt's trip to climb K36 (Saltoro Kangri) in Baltistan. Lieutenant (later Colonel and Lord) Hunt would subsequently become the successful leader of the 1953 Everest expedition. Over the years, the Royal Military Academy Sandhurst Mountaineering and Exploration Club introduced many Officer Cadets to the joys of climbing, during their formative training, whilst soldiers and Non-Commissioned Officers were put through their paces at the Army Outward Bound School at Tywyn.
Against a backdrop of ardent new-routeing in the European Alps and the vigorous development of rock climbing standards in Britain, the formation of a mountaineering club was proposed. The proposal was fronted by Colonel Gerry Finch, Major Hugh Robertson and Second Lieutenant Chris Bonington. They believed a club was required with the strength to organise alpine meets and expeditions to the greater ranges, initiatives that Regimental clubs were unable to support. In 1957, a formal proposal was drawn up and accepted by the Army Sports Control Board, who were very receptive to the emphasis placed on the training value of mountaineering; this emphasis continues today, Adventurous Training is seen as an important element in the preparation of soldiers for the rigours of the modern operational environment. Financial support was initially agreed, subject to 'the organisation being integrated as far as practicable with the Army Ski Association.' This link was never cemented and the AMA remains independent to this day.
The AMA has embraced all aspects of British mountaineering throughout its history and this legacy is reflected in the diverse activities of the Association's members today. Such activities have included traditional large-scale expeditions, such as the successful 1976 expedition to Mt Everest, as well as the most recent attempt on the Everest West Ridge, which is still to be climbed by a British citizen. Other activities such as the annual Army bouldering, sports climbing competitions and smaller alpine expeditions also take place. This diversity is due to the fact that the AMA is run by, and for, its members, all of whom are encouraged to organise and attend mountaineering events across the United Kingdom and the worldwide.